Since 1962 The Salvation Army Women's Auxiliary of Denver has been an organization that assists The Salvation Army through service and grants.
Our volunteers take part in a variety of activities year round. We have opportunities to serve that fit every kind of schedule.
The Denver Metro Women's Auxiliary welcomes anyone who is interested in assisting The Salvation Army in its efforts to help the needy of our community. We invite you to join The Women's Auxiliary.
For a list of upcoming activities and events, click here.
Each year, the Auxiliary allocates grants to various metro Denver Salvation Army Corps and programs. Our primary means of raising these funds is the annual Holiday Boutique & Doll Tea held each November. Workshops are held throughout the year in the metro Denver area to create items for this benefit.
Some of the volunteer opportunities include:
Creating items and working at our annual fundraiser, the Holiday Boutique
Ringing bells at Christmas
Writing articles for the newsletter or helping with publicity
Aiding with a variety of office work
Assisting local programs in the Denver Metro area with ongoing and/or special projects dealing with youth, seniors, and the homeless and addicted – both men and women.
2020 September Newsletter (click here to read online)
2021 Spring Newsletter (click here to read online)
2021 Summer Newsletter (click here to read online)
2021 Fall Newsletter (click here to read online)
A few pictures from our Spring General meeting
At this meeting the Doll of the Year was presented to Colonel Joy Church. The Corps officers each gave their reports. Lt. Betty Vesikula was our speaker and her daughters danced several hula dances for us.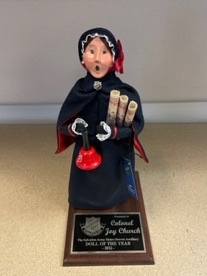 .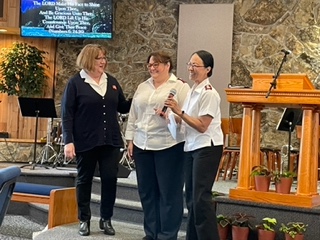 .